"They begin with zero knowledge, but by the end of the course, my students can model pretty much anything in Blender," says Parks Gettys, 3D Modeling instructor at Madison Academy, Alabama
The course is a semester-long program for 10th through 12th grade students (15 to 18 years old), many of whom have never seen 3D software before. A project-based class with lots of hands-on practice, no final exam and access to a 3D printer, this is a course you would want to get up for in the morning.
On top of that, Parks encourages students to lay out their own learning path by deciding what they want to focus on. "I don't stand in front of the classroom delivering a lecture," says Parks. "My students tell me what they want to do and I help them get there," he explains. This attitude inspires students to create their own challenges and results in a fun, lively learning environment in the classroom, with some students working away at their 3D models, some drawing out ideas in their sketchbooks and others discussing a tricky project part with Parks.
An 'Apple Distinguished' High School
The atmosphere is closer to a creative studio than a traditional classroom - but then again, Madison Academy is not your average high school.
Recognized as a leader in technology integration, the Alabama PK-12 school with a little under 1,000 students is recognized by Apple as a "Distinguished" institution, with each student having access to an Apple device. The highly individual approach to learning is expressed in the school's tailored pathways, which allows students to follow their individual interests - if one of yours is 3D, you would end up in Parks' class.
Read "Why Your Classroom Needs Blender"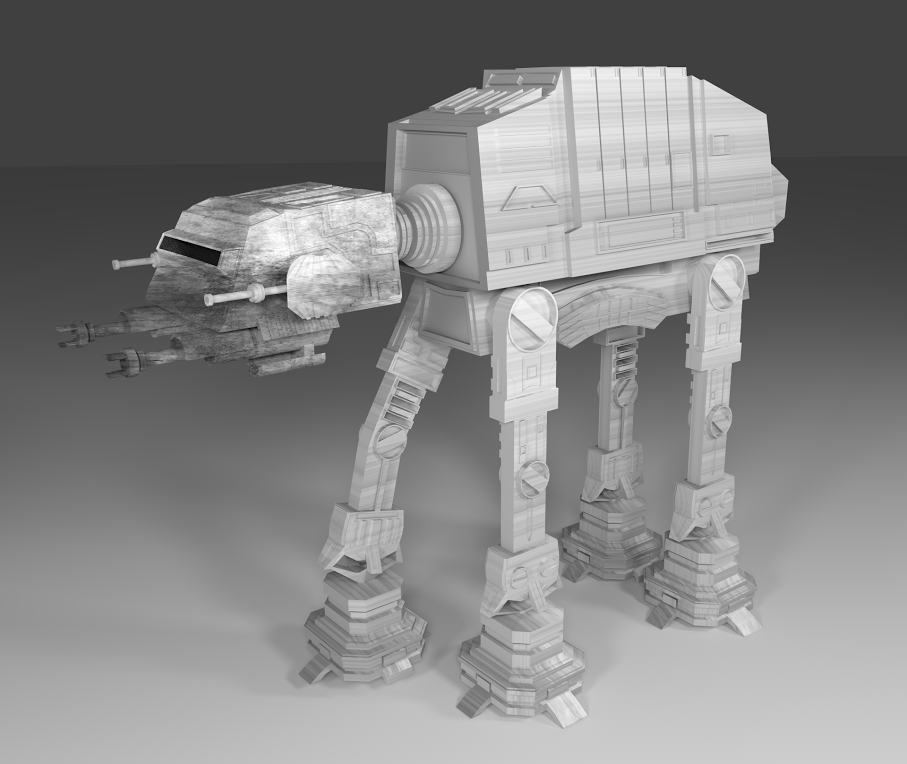 Working in Blender
When Parks discovered Blender 3 years ago, he immediately decided to learn 3D modeling. With the help of CG Cookie tutorials, he progressed quickly: "Recently, I took the Realistic Model Workshop and that was huge for my progress," he remembers.
Today, his students use CG Cookie as well, both in class and at home, and Parks relies on the tutorials to introduce major topics in Blender. The group usually begins with the Fundamentals of 3D Modeling, followed by other tutorials. Students then come up with their personal project, which Parks supports by helping them draw a customized learning plan.
Get up to speed with modeling in Blender with Mesh Modeling Fundamentals
"One of my students wanted to make a video game so I sat down with him, we watched a couple of tutorials on that and figured out how we were going to make it happen," says Parks.
Though things don't always move fast, as Parks knows. The biggest hurdles for students are Blender's keyboard shortcuts and new terminology, which usually take around 2 to 3 months to master. At the same time, Parks coaches students to deepen their understanding of real-life objects to be able to represent them in 3D: students are encouraged to study anatomy and create sketches to draw out their projects.
Learning Real-Life Skills
And that is not all the students have to master. With his own background in graphic design and several years working for Apple, Parks knows the fierce competition in the marketplace and knows that technical skills alone aren't enough to succeed: "In class, we put a big focus on our time-management skills.
Just like in real life, students have to meet deadlines and complete milestones," explains Parks, who also requires students to maintain their online portfolio showing weekly progress.
At the same time, the students learn to problem-solve; as Parks cannot answer every single question, he encourages students to look for answers online, often using CG Cookie tutorials. "They are also incredibly good at collaborating and help each other solve problems," says Parks.
The Future of Blender
He is doing his part for solidifying Blender's position among the big 3D players: "Me and my students work exclusively with Blender, so if they decide to go into the industry, they will be taking Blender with them."
---
[Featured image: "Portal Gun" by Ryan Pollard]
Thinking of bringing Blender to your school? Download CG Cookie's ready-to-use Curriculum with a detailed lesson plan.