Rules of the Exercise
Animation is the blocking stage only.

Stomp's jump reads well and is appealing.

Body mechanics adhere to the principles of animation.
This robot has ups.
OVERVIEW
This exercise is designed to be an application of the information learned in Chapter 2 of the Animation Workflow & Body Mechanics course. The big goal is to animate the Stomp character jumping the gap between these two boxes. But we're essentially splitting the exercise in two halves: (1) Blocking and (2) Splining/Polish.
This exercise is just the BLOCKING stage of the shot.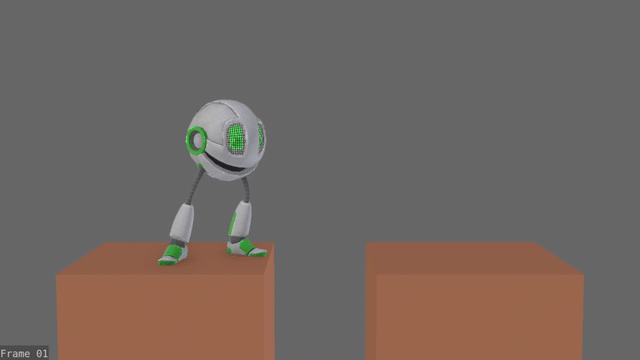 INSTRUCTIONS
Download the Project Source Files from the Downloads tab *if you haven't download them from the course page already. Unzip the file.
Open a blank Blender scene and link in the appropriate files as demonstrated in this lesson.
Block out the Stomp character leaping between the 2 blocks.
Render your animation as either (A) an openGL viewport render.
Upload your video to YouTube or Vimeo.
Finally, submit your exercise by clicking the Submit Exercise button in the top-right corner of this page and pasting your video's URL.