Video Timestamp Copied to Clipboard!
Rules of the Exercise
Download and open the practice worksheet for this exercise.

Observe and create leather on the various forms provided. Do your best to recreate the material to the best of your ability

Work with different variations of leather, some can be more treated and shiny while others can remain worn and matte.

Submit your work this exercise under the "Submissions" tab for grading!
– OVERVIEW
When it comes to fantasy concept and illustration work, you would be hard pressed not to include leather of some kind. We see it everywhere in video games, movies, and shows. I believe this material is essential to understand if you want to work in the industry. I personally love working with leather as it's a textured surface that either has little to no shine, or a pretty defined highlight. You can carve into it to add designs or you can give it seams and stitching to add that extra detail. Learn to love this material as you may be having to create it a substantial amount of time! So what exactly is it? Well, to put it grossly it's essentially dried flesh, primarily tanned cattle skin. And like our own skin, it's not very reflective unless there is oil or water present on top which creates the sheen. For the most part, the color and value will be pretty consistent all over with the exception of the highlight. Be sure to add in the subtle texturing of the cracks, tears, and grooves. Below is the practice worksheet that you can grab from the "Downloads" tab (find it under the header image near the top of this exercise).
– TIPS
Decide if you want a more treated shiny leather or a more natural matte leather.
Add those seam lines and stitching for that extra punch of detail.
The wrinkling should be subtle yet effective. Use reference and see how leather folds on itself.
Add some texture to give that defined leather look!
This exercise is an essential when it comes to strengthening your material understanding, especially one that is used so often. Be sure to take your time with leather but you'll learn that it's actually quite easy to create and then it becomes fun!
– INSTRUCTOR NOTES –
After completing the exercise myself, I've realized how much detailing and precision can go into leather works. So take your time with this material and be patient with the execution! For the step by step I created, I went with the same leather material for each so that you can see different examples cut of the same cloth. Leather can definitely be different colors and how a various levels of sheen onto them. So know that this isn't the only way to create leather, is just one of many! For the exercise let's break down each step and see how to build up those values.
Refined Outline – Start with a clean outline and create a believable object that would be leather.
Solid Base - I personally like to work dark and then build up from there, so here we're starting with a solid dark base.
Build Up Values – From there, I grab a slightly lighter brown color and build up the values and give the object some form.
Push Light Placement – Here is where you can further push that lighting placement based on where you paint on even lighter values.
Remove Outlines/Refine – Once you remove the outline, clean up the edge and refine the details further. You want to make sure it "reads" without the lineart. This can be tough and I even darkened some of the areas where the lineart was to help separate the forms.
Highlights - This step is what will really make your material "shine". I choose a light level of reflection with my highlight and wanted to give more of a worn leather look that maybe got polished a few months ago. So be mindful of the highlight placements and I also threw on a soft light to give that brown some more color variation to it.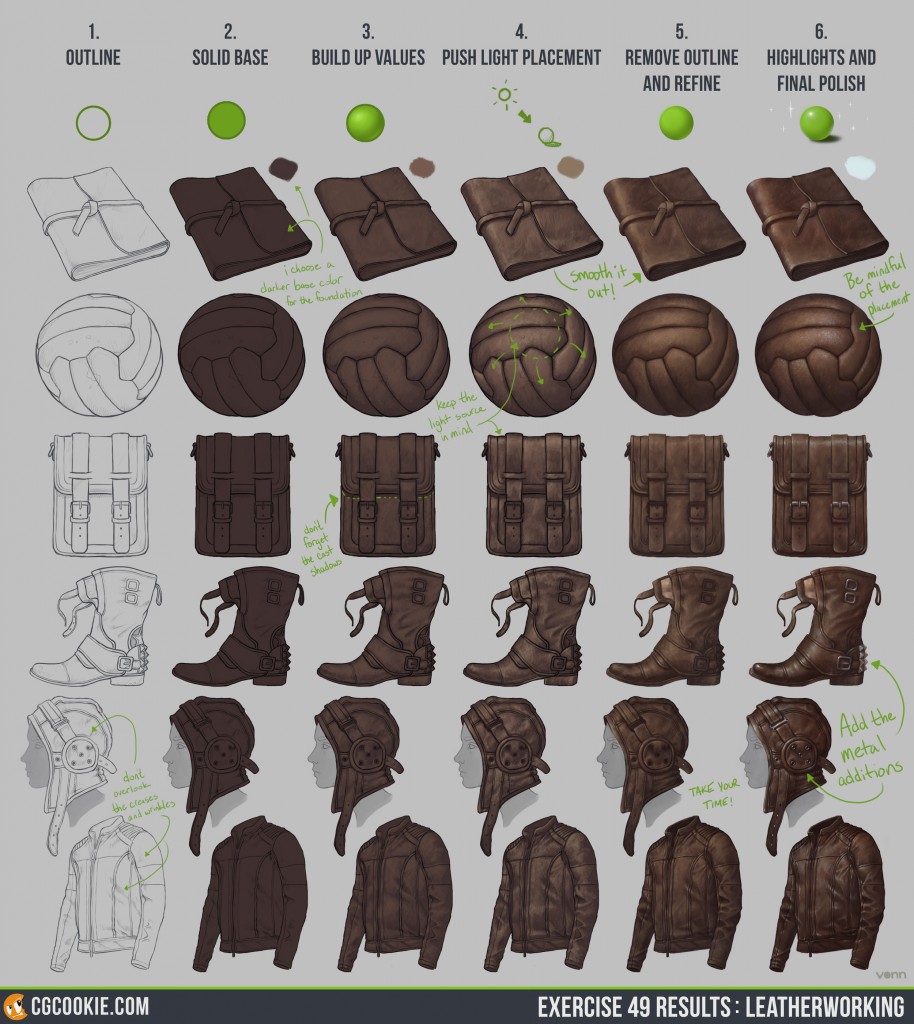 This is a great material exercise but admittedly can be rather tough. So take you time and remember:
Wrinkles and subtleties are key! The more worn and believable the leather looks, the better!
Think about how reflective you want your leather. Heavier shines imply smooth, oiled leather. No shines imply worn and rustic.
A Texture brush can add some nice variety to the surface and can give more of an organic feeling.
When you finish the exercise, remember to submit the result to the "Submissions" tab near the top of this exercise. You can see other submissions alongside your own!