A project 2 years in the making is finally here! We are launching an all-in-one kit for clay sculptors: The SculptBox.
---
Sculpting with CG Cookie
If you know CG Cookie, you are probably aware that sculpting has always been a huge passion of ours. We've dedicated a lot of time and resources to creating training for clay sculptors and over the years, thousands of artists have gotten their hands dirty following our tutorials.
As a team who lives and breathes digital art, why bother with clay?
We've always believed that working with a tangible material and making something you can actually touch and feel is the pinnacle of creativity. As Kent Trammell puts it: "With digital sculptures, I know it's just a visual representation of certain 0's and 1's. But when I see a physical sculpture I'm moved a little more, I gaze a little longer." That's coming from somebody for whom working with 0's and 1's is their daily bread!
Read: Traditional vs. Digital Sculptors. What's the difference?
The good news is, you don't need to decide between creating in a digital or traditional medium. Becoming familiar with both will make you a more versatile artist and enhance your sense of form and proportion, both in virtual space and in real life.
But...Starting With Clay Sculpting is Hard
Yes. When it comes to starting with 3D, all you need is a 3-point mouse and a working computer. With clay sculpting, you need what feels like half a hobby store before you can even attempt to make your first sculpture.
And while we've created a full Learning Flow on getting started with clay sculpting, so far, getting the right tools and materials has been on you, with all that it entails: searching online reviews of tools, multiple trips to a hardware store only to find the expensive brush wasn't quite what you needed, finding the right clay through trial-and-error and becoming frustrated in the process. Not fun.
Making Sculpting Affordable and Pain-Free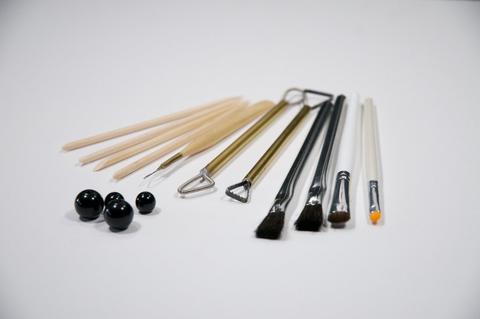 We decided to change how people start with clay sculpting.
Through talking to professional sculptors and asking them "What tools do you wish you had when you were starting out?" we've narrowed down the must-have, tried-and-tested equipment that every sculptor needs and that will see a sculptor through a huge range of projects.
"This is the perfect beginning kit for the artist who is serious about improving their sculpture work." - Jordu Schell (Sculptor: 300, Avatar, Hellboy)
With a Little Help From Our Friends
Creating the SculptBox was an incredible journey; from the initial prototypes to hand-testing each tool and designing the packaging, it has taken us nearly 2 years to refine the SculptBox into a kit we are 100% confident to share with sculptors.
The project has brought us together with hugely talented and inspiring artists: from working closely with Lisa Schindler, our long-term sculpting trainer, to Neil Viola, and Jordu Schell, an award-winning creature sculptor.
We've partnered with the wonderful folks at Monster Makers who provided the material for our SculptBox: Monster Clay, the medium used by pros across the industry.
We've also collected feedback from dozens of professional and amateur sculptors and refined the kit over and over again.
The result is an all-in-one kit that you can open and just get started, following a step-by-step course on creating your first sculpture.
(Yes, it's the cute monster known as Melvin. And yes, 2 pairs of eyes are included in the SculptBox.)
Collaborating with so many talented artists has been the best part of the process and really brought home what sculpting is about: creativity, fun, and turning that vision in your head into something real.
---